SMOK TFV8 REPLACEMENT COILS - 3pcs/pack
Tax included.
Shipping
calculated at checkout.
SMOK TFV8 REPLACEMENT COILS  With turbo boosted airflow slots are designed for cloud chasers looking for a high performance vaping experience can be adjusted to your own personal preferences. Combining the SMOK Turbo Boosted heating air tube and Turbo Boosted engine coils creates an ideal enviroment for even dispersion and heating of your favorite ejuice.These powerful atomizer heads are designed for high wattage featuring ten coils and a large caliber delrin drip tip for maximum flavor and vapor production. 
SMOK TFV8 REPLACEMENT COILS Available to order Online from Vape Gate UAE with a unique Delivery service in UAE, Abu Dhabi, Dubai, Al Ain, Ras Al Khaimah, Ajman, Sharjah, Ruwais
---
---
---
DESCRIPTION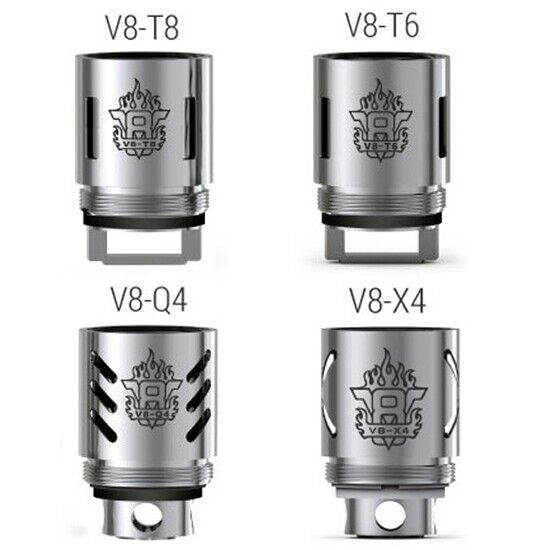 SMOK TFV8 REPLACEMENT COILS Series :
V8-X4 Quadruple Coil:

0.15ohm resistance

Double-Barrel Pistol Design

CF Mate (Cloud & Flavor Balance Core)

Turbo: 4.0T-X

60-150W rated, recommended 80-120W

 

V8-Q4 Quadruple Coil


0.15ohm resistance

Patented Quadruple Coil Design

Turbo: 5.0T

50-180W rated, recommended 90-150W

 

V8-T6 Sextuple Coil


0.2ohm resistance

Patented Sextuple Coil Design

Turbo: 6.0T

50-240W rated, recommended 110-150W

 

V8-T8 Octuple Coil


0.15ohm resistance

Patented Octuple Coil Design

Turbo: 6.6T

50-260W rated, recommended 120-180W

 

V8-T10 Deca/Decuple Coil

0.12ohm resistance

Patented Deca/Decuple Coil Design

Kanthal Clapton Coil Material

Turbo: 10T

50-300W rated, recommended 130-190W



---
We Also Recommend
---